USA TODAY - Site of the Day
December 31, 1998

This site was awarded a Times Pick by the Los Angeles Times on 1/2/98.


Chosen by Computer Currents Interactive (CCI) as one of the Links of the Week for the week starting December 28, 1998.


Infinity International Useful Site of the Month award!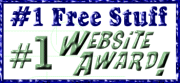 Recipient of the #1 Free Stuff "#1 Website" award